Imagination is essential for a writer."
This is Janet Lane Walters motto for her writing career. How did this come about? The honing of her imagination began when she was four years old and received her first library card. A further help came from the summer nights on the front porch of one of the row houses where she lived. There were no streetlights. This was during World War 2. The neighborhood gang often sat and told round robin stories, mostly ghosts but also those of daring do if their town was invaded. This morphed into writing plays to be produced for their parents and held in a garage. Time went on and other interests took place. Janet went to school to become a nurse. Her instructors liked her case studies but they also remarked the presence of emotion and descriptions of people and houses as really not needed. She graduated, found a job as a nurse and married. Then a case of pneumonia happened. She couldn't work and she'd read all the library books she had borrowed on the way home. A shopping bag full of nurse romances and other books sent by her sister-in-law kept her occupied. After reading the third of these books, she decided the writers knew nothing about medicine and hospitals. She would write her own books. She found and studied books on writing and finally began with short stories. Her first story sold in 1968 and featured a nurse and a dying patient. She continued this occupation as well as having children to raise. Then an editor sent a rejection of a story with these words. "This sounds like a synopsis for a novel. Something new to learn and she has the books on writing and also reading books by American authors from the earliest to the latest. After many rejections and helpful suggestions from the editors doing the rejection, in 1972, her first novel was published. She has gone on to have penned fifty or more novels, novellas and several non-fiction books. She lives in the Hudson Valley. Janet has four children, one an adopted biracial daughter and seven grandchildren, four black and three Chinese.
Visit Janet's Amazon page to purchase any of her books:
https://www.amazon.com/Janet-Lane-Walters/e/B0034P79H0?ref=sr_ntt_srch_lnk_1&qid=1667346936&sr=1-1
For Smashwords purchases, find Janet's books here:
https://www.smashwords.com/books/search?query=Janet+Lane+Walters
---
Available December 1
When the mayor declares there will be no Halloween parade, a village tradition, Kate and her friends are surprised by the announcement. Sarah, Kate's neighbor and friend is furious and she vows there will be a Halloween parade. A chance meeting with the mayor on Labor Day, also a no parade day sets Sarah and the mayor at odds. What can be done? There should be a parade, since there hasn't been one since the start of the COVID epidemic.
Sarah gathers signatures on a petition she presents to the mayor. Mayor Bloom, refuses to acknowledge the gesture. Sarah vows she will find a way to thwart the over-weight man she calls Mayor Lard.
Kate receives a phone call from a friend in Vermont. The town where her friend lives has recently purchased some lamp post decorations that look like those she remembers from the Hudson River village. Are they the same. Kate sets out to learn.
While exploring the basement storage room at the town hall, Kate discovers the decorations for all the holidays are gone. She also discovers the body of the mayor. He has been hit over the head and also stabbed. Kate wonders who was so furious. Suspicion falls on her friend, Sarah. Kate sets out to find the killer and prays it's not her friend.
---
Abby Reid feels she's been playing whack-a-problem for months. Her ex is behind on child support payments. Her angry teenage daughter. Her new business, a home care agency. All these areas vie for her attention. She believes she has solved the last major problem with the agency by firing her clinical supervisor, but this adds to her chores. Hoping the new patient, a private pay one will boost her spirits and bring success, she agrees to work the weekend day shift rather than call another agency and find the case being stolen. Will the new patient provide a break in the negative events in her life?
Doctor Jeff Grayson is the in-coming patient. He has been in town and working with his friend for a month. Jeff is a master of many things. At fifteen he started college and has degrees in English, Architecture and Computers. All this before medical school. He and his Harley met with a car and came out the losers. He's a patient with casts on both legs and one on his left arm. Though his doctor recommends rehab, Jeff has a different idea. He is going home. Abby's home health care agency is recommended. During their initial meeting, Jeff is snowed by pain medication and he falls in love with her voice. He has no idea of her appearance but he can dream and Abby is the object. When he wakes and meets her, will his dreams change?
---
FREE FROM AMAZON, SMASHWORDS, BARNES & NOBLE, KOBO
(Meet retired nurse and amateur detective Katherine and her Maine Coon Cat Robespierre. We're so sure you'll fall in love with this wonderful cozy mystery series, that we've made the first book permanently FREE)
Katherine is a retired nurse and a retired church organist. The small Hudson River village where she lives in her Victorian "Painted Lady" makes her the neighborhood matriarch. Along with her Maine Coon Cat Robespierre, she guards friends and families.

When amoral Rachel moves into the first floor apartment of Katherine's house, trouble erupts. The murder weapon is one she recognizes and makes her fear for her friends and family. Finding the killer becomes her goal.
Available to purchase from Amazon https://kdp.amazon.com/en_US/series/CTB86KNHQCD and from Smashwords https://www.smashwords.com/books/byseries/28811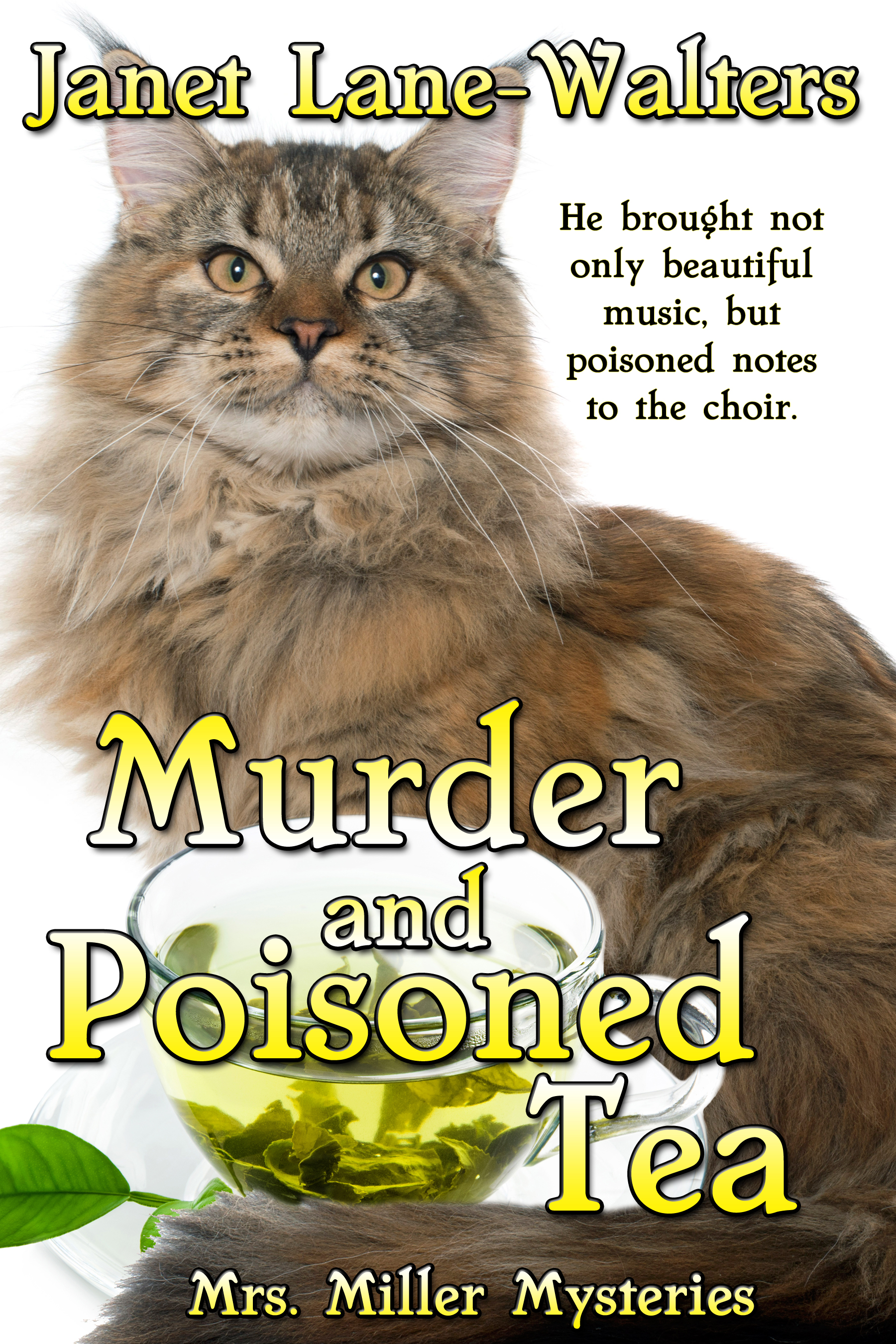 ---
Find all of the following Janet Lane Walters books by searching for the title on Amazon, Smashwords, Kobo, Apple, and multiple retailers