After writing feature articles in magazines, newspapers, and online magazines for over fifteen years, J.Q. Rose entered the world of fiction. Figuring out the characters and their quirks and setting them in a location reminiscent of places J.Q. has lived keeps her penning mysteries. Blogging, photography, Pegs and Jokers board games, and travel are the things that keep her out of trouble. She spends winters in Florida and summers up north camping and hunting toads, frogs, and salamanders with her four grandsons and granddaughter.
Click book covers to choose your favorite online retailer for Purchase
---
In 1975, budding entrepreneurs Ted and Janet purchase a floral shop and greenhouses where they plan to grow their dream. Leaving friends and family behind in Illinois and losing the security of two paychecks, they transplant themselves, their one-year-old daughter, and all their belongings to Fremont, Michigan, where they know no one.
Will the retiring business owners nurture Ted and Janet as they struggle to develop a blooming business, or will they desert the inexperienced young couple to wither and die in their new environment?
Most of all, can Ted and Janet grow together as they cultivate a loving marriage, juggle parenting with work, and root a thriving business?
Follow this couple's inspiring story, filled with the joy and triumphs and the obstacles and failures experienced as they travel along the turbulent path of turning dreams into reality.
---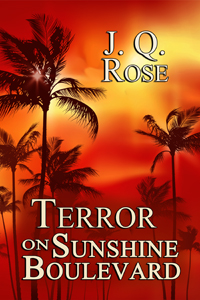 Rescuing a naked woman lying in a geranium bed or investigating mysterious murders are not the usual calls for first responder Jim Hart. He expects slip and fall accidents or low blood pressure emergencies in his retirement community of Citrus Ridge Senior Community and Golf Resort. The ghastly crime scenes turn the winter time fun into a terrifying season of death and mystery when the authorities cannot track down the predator responsible.

Jim and his wife Gloria could escape the horror and grief by returning to their northern home, but concern for their friends and residents keep them in Florida. With the entire community in a dither over the deaths, the Harts participate in the normal winter activities of golfing, dancing, and pool parties with their friends to distract them from the sadness and loss.

Can Jim and Gloria work with the authorities to discover who or what is killing the seniors on Sunshine Boulevard and stop the increasing body count?
---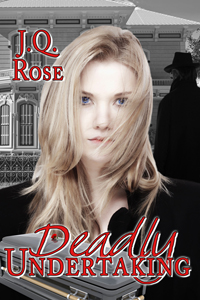 Lauren Staab knew there would be dead bodies around when she returned home. After all, her family is in the funeral business, Staab and Blood Funeral Home. Still, finding an extra body on the floor of the garage between the hearse and the flower car shocked her. Lauren's plan to return to her hometown to help care for her mother and keep the books for the funeral home suddenly turns upside down in a struggle to prove she and her family are not guilty of murdering the man. But will the real killer return for her, her dad, her brother? Her mother's secrets, a killer, a handsome policeman, and a shadow man muddle up her intention to have a simple life. Welcome home, Lauren!
---
Pastor Christine Hobbs has been in the pulpit business for over five years. She never imagined herself caring for a flock that includes a pig, a kangaroo, and a murderer.
Detective Cole Stephens doesn't want the pretty pastor to get away with murdering the church music director. His investigative methods infuriate Christine as much as his deep brown eyes attract her.
Can they find the real killer and build a loving relationship based on trust