Australian romance author, Joanie MacNeil, writes short contemporary romances: a blend of sweet, sexy, heart-warming stories about new love and second chances. Though her introduction to reading romance began with historical romances, she was drawn to write shorter contemporary stories.
Home, family, and friends are important to Joanie, and these elements are blended into some of her stories. Catching up with family interstate and spending time with her four young and energetic grandsons are memories she holds close to her heart.
One of her favorite pastimes is traveling with her own romantic hero.
When she's not on the move, she enjoys creating her own romantic stories, reading romance, going to the movies, having coffee with friends, and participating in aqua aerobics.
To Buy a book click the book's cover
---
Series: Honorable Men
Who are the honorable men in my series of the same name? At their core, these fair and honest men strive to meet their own high standards in life. When obstacles threaten their best laid plans in the pursuit of the dream of happily-ever-after, they go all-out to achieve their goals to earn the love and respect of the women who steal their hearts.
Honorable Men - The Australians - Book Three
Living with survivor guilt ex-soldierJared O'Connell craves forgiveness from his childhood friend for the death of her brother in Afghanistan. To get himself emotionally fit before he sees Mardi, he relocates to the coast to renovate his family home.
Close to finishing her studies, Mardi James can almost taste success. Her world crumbles following an alleged assault resulting in partial memory loss which may end her long-term career plans. Recovering at her family's coastal holiday home, she is approached by a man who apparently knows her, and calls her by name.
Jared is devastated when Mardi doesn't know who he is. An opportunity to seek her forgiveness and move on with his life appears lost to him.
---
Honorable Men - The Scots - Book Two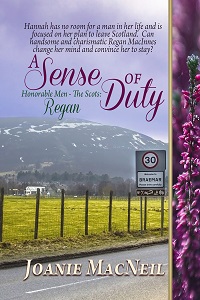 Carefree and used to a nomadic lifestyle, Regan MacInnes returns to Braemar, Scotland to get to know his eighteen-year-old daughter...a daughter he didn't know existed.
What he doesn't count on is being bewitched by Australian widow Hannah Lindsay. Hannah has no room for a man in her life. Her goal is to sell the bed and breakfast, her late husband's dream, and move back to Australia to be with her family. She is so focused on her plan that not even the likes of handsome and charismatic Regan MacInnes can stand in her way.
---
Within the imposing halls of historic Carabrae, Scotland, Australian Kate Fielding finds herself caught in an unusual love triangle.
Dark and dominating, traditional Scot Galen MacBain is intrigued by the outspoken young woman who stirs both hisdemons and his passions. Marriage to Kate would provide him with an heir and a father for her child. Kate cannot accept Galen's convenient proposal. Though her baby would inherit the wealthy MacBain estate, her marriage to Galen would be for the wrong reasons.
Their lives are pitched together in a push and pull search for love, trust and family values. Will this modern and determined young woman resist the temptation to accept Galen's proposal of marriage?
Editorial Review
Joanie MacNeil's skill as a gifted writer sparkles in this delightful story. Her lush descriptions and feisty lovable characters made for an entertaining read! I look forward to experiencing more of MacNeil's work! Pamela Johnson - Word Museum Reviews
---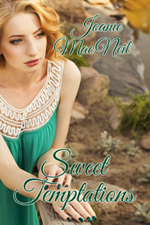 Zachary Cordell searches for his estranged father's young widow. Certain that Elizabeth Marshall married his father for his money Zac wants revenge.

To escape the notoriety forced on her by the press, Elizabeth wants a quiet lifestyle and escapes to her old home town. When her uncle Max recommends Zac as a handyman, she is nervous about hiring a drifter. She soon begins to trust him and finds herself attracted to Zac. Little does she know his relationship to her late husband, or the sweet temptations which will follow.

Editorial Reviews
"...a gloriously complicated contemporary romance. I loved every minute of Sweet Temptations!" - Sally G. Laturi, Ivy Quill Reviews

"Shocking, yet compelling. Well written... A good read."
- Susan Joynor-Pettigraf, Paper Tiger Reviews
---
Claire Vincent's unexpected encounter with old flame, Nick Sheridan threatens her hard-earned independence and the life she's created for herself and her young sons. She is determined that nothing will take that independence away from her, not even Nick.
Nick is licking his wounds after a messy divorce. When he sees Claire for the first time in fourteen years, the passion he once felt for her, passion he thought died long ago, is reawakened. Is he ready for a new relationship and an instant family?
Will Claire learn to trust her heart to Nick a second time?
Review: Sweet Romance ~ A sweet romance about learning to trust. She'd trusted him once and been burned. She'd trusted her dead husband and had lost everything. Trusting the first man she'd loved again brought problems only she could solve.
---
Desperate and Dateless? Not Liam Reynolds. He has no time in his busy schedule to foster a romantic liaison. But when his teenage brother, Dan, surprises him with a ticket to the Desperate and Dateless Ball, Liam couldn't resist the temptation to attend…merely to satisfy his curiosity, of course.

Desperate and Dateless? Certainly not, Zoe O'Malley declares. How dare her girlfriend send her a ticket to the Desperate and Dateless ball! No way will she go anywhere with a computer-matched date. But fate intervenes and when Liam and Zoe are drawn together over a business arrangement prior to the ball, their lives become irretrievably entangled. Can they live by their golden rule—never mix busness with pleasure?
Review: Good, funny, entertaining! – Susan Joynor-Pettigraf
---
Australian, Natalie Harrigan knows from past experience that men are trouble, and having a man in her life is not on her agenda. She'd much rather focus on her career. Success in her new appointment to the coveted position of CEO in the recently established Training Advisory Council is her number one priority and she intends to prove she will be the best CEO ever.

Enter Luke DeMarco: newly appointed Director of Public Affairs in the Training Advisory Council, and her young brother's best friend. Luke DeMarco has always loved Natalie from the moment he first set eyes on her at eight years old. Now, twenty years later, she's more woman than ever, and Luke's not too worried about the twelve years difference in their ages. Surely his gentle wooing will convince Natalie that age is no barrier to love? But Natalie is his boss. Will she allow him to move from their boardroom to her bedroom?
Reviews: Huntress Book Reviews, reviewed by Detra Fitch
A delightful romance that will please all its readers! Joanie MacNeil has taken a modern day situation and turned it into an enjoyable reading Sensation! I loved every minute I spent reading this one! Recommended. **** ~
---
Alexandra Jordan doesn't anticipate the challenge ahead of her when she agrees to spend the summer as a research assistant for acclaimed author, David Meredith, who is gradually losing his sight.

David feels threatened by her presence in his home, his sanctuary, the only place he can be independent. He is determined to prove he doesn't need help and wants Alex out of his life. She is equally determined to do the job she's been paid to do. Once he accepts Alex isn't like other women, her beguiling ways soon intrigue him…until he discovers her secret.

Review: Grace Atkinson

Can these two wounded souls find happiness together? Fun to read,
I enjoyed the way that David and Alex grew separately, facing their individual adversities and becoming stronger independently so that they could more fully give their love to each other.
---
Attractive Paige Delaney is more woman than Jack Shannon wants in his life, though he's in serious need of her award winning skills in web design. Paige believes her sexy new boss thinks he's God's gift to woman. Both are single parents with shattered dreams and damaged hearts, having suffered betrayals of trust in previous relationships. Each desires to love and be loved, but they are afraid to trust the opposite sex again.

When Jack moves into his new house and discovers Paige is his next door neighbour, their protective barriers and personal goals are threatened. Is it fate or their teenage children conspiring to push them together?
Review from The Romance Studio ~ Reviewer: Glenda K. Bauerle

This is a wonderful love story. I enjoyed the fact that, although Jack had more than one bad relationship in his past, he was still capable of falling in love with Paige and so easily acknowledging that fact to himself. What a wonderfully romantic story and definitely recommended reading.
---
Followingthe death of her husband, Nicolette Oliver concentrates on re-establishing her career as a dancer, though still dealing with emotional issues relating to her life with Mark. When his friend appears on her doorstep, Nicolette honors her late husband's invitation and invites Jake to stay.

Jake Harrigan has always been attracted to Nic and sees her as untouchable, even though she is now on her own. They are opposites, their lives and expectations literally worlds apart. Drawn into a romantic interlude, the parting is difficult when Jake returns to Europe to resume his career as TV news journalist and Nic moves to Sydney to begin rehearsals for the show that will resurrect her career.

Jake returns to Australia to see Nic again and also to finalize details with his network to sail around the world making documentaries. Will Jake follow his heart and ask Nic to give up all that she's worked for and sail away with him?