Being born in Bristol, England, Victoria
Chatham grew up in an area rife with the elegance of Regency architecture. This, along with the novels of Georgette Heyer, engendered in her an abiding interest in the period with its style and manners and is one where she feels most at home.

Apart from her writing, Victoria is an avid reader of anything that catches her interest, but especially Regency romance. She also teaches introductory creative writing. Her love of horses gets her away from her computer to volunteer at Spruce Meadows, a world class equestrian centre near Calgary, Alberta, where she currently lives. http://victoriachatham.blogspot.ca

To purchase books click the book covers
---
those Regency Belles Book 3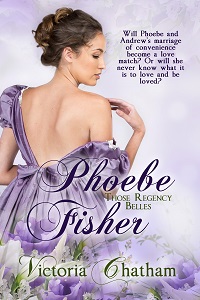 Her fortune attracts many suitors, but when they discover Phoebe Fisher's one notable and outstanding flaw, they depart as quickly as they arrive. Phoebe despairs ever finding someone who will love her just as she is.
Returning to his family home after an absence of ten years, Andrew Fitzgibbon is devastated to find his only relative deceased, the house derelict and the estate almost bankrupt. Without the funds to support it, the title he inherits is worthless. He needs a fortune. Phoebe has one. Reluctant to offer marriage to a young lady simply for her wealth, Andrew finds her intriguing and suggests a solution that might suit them both.
Phoebe agrees, but Andrew's past may cloud their new life together. Will it make or break them? Will their marriage of convenience become a love match, or will Phoebe never know what it is to love and be loved?
---
those Regency Belles Book 2

Charlotte Gray discovers her home ransacked, her father missing, and a dark and dangerous stranger, Benjamin Abernathy, waiting for her. He had promised to take care of his friend's daughter if anything befell him and must now follow through with that promise.
With no other options, and despite her misgivings, Charlotte becomes established in the stranger's home as governess to his nephew and niece. Benjamin doubts her ability to cope with the two young hellions but is quickly reassured as he recognizes the sharp mind behind her blue eyes. But is it Charlotte's mind he falls in love with, or her delectable body?
With Charlotte hunted for the knowledge she is suspected of possessing and Benjamin, for the threat he presents, danger stalks them. But the smugglers and spies behind the threat have no chance against this duo, who will go to any lengths to protect the secrets they each must keep.
---
Those Regency Belles, Book 1.
Hester Dymock dreams of one man, Lord Gabriel Ravenshall. She knows a liaison between them is impossible without her having title or fortune. Involved in an accident close to her home, he falls and breaks his leg. Abandoning all discretion, she rushes to his aid.
Gabriel has no choice but to submit to Hester's care and that of her mother, an apothecary and her brother, a doctor. Embittered by the memory of his parent's loveless marriage, he broods over his growing regard for Hester, unaware of her deep attraction to him. Once his leg has mended enough for him to return to his home, he is dismayed to discover that Hester is to continue tending him.
Her stubborn, uncooperative patient keeps Hester on her toes. With her help, will Gabriel learn to walk again? And will he allow himself to love her, or will her hopes for the future remain a dream?
---
Callie Wade: Some would call her a successful businesswoman. Colt McKeacham must call this knockout redhead his boss.
Colt McKeacham: Some see him as a rugged, tough ranch foreman. Callie sees a sexy-as-hell cowboy with an attitude. How can she resist him?
Callie Wade almost inherits a ranch from a grandfather she never knew she had. The last stipulation in his will, that she marry the ranch foreman, Colt McKeacham, within six months, leaves her reeling. When Callie visits the ranch and suffers a series of accidents, Colt sees a disturbingly familiar pattern and begins to suspect that her grandfather's death was not what it appeared. Who is deliberately trying to drive Callie away, or worse? Despite their growing attraction for each other, Callie has her own suspicions that Colt wants the ranch more than he wants her. The truth stuns them both.
---
Overwhelmed by circumstances, Lady Olivia Darnley flees the scene of a society ball. She finds refuge in a darkened library but discovers that she is not alone. At her request, her unknown companion does not reveal himself but remains seated within the confines of a wing chair. When she finally exits the room all she has of him is his handkerchief.
Expected by his mother to choose a bride, Lord Peter Skeffington would much rather continue with his bachelor lifestyle and his literary pursuits. However, the lady in the library unexpectedly piques his interest and, much against his will, he finds himself more and more drawn to her.
Will Lady Olivia recognize the owner of the handkerchief when she meets him? And will she forgive him for making her the heroine in her own story?
---
Click to read a Five Star Review from Long and Short Reviews
Brides of Banff Springs by Victoria Chatham
Canadian Historical Brides Book 1 (Alberta)
In the Dirty Thirties jobs were hard to come by. Having lost her father and her home in southern Alberta, Tilly McCormack is thrilled when her application for a position as a chambermaid at the prestigious Banff Springs Hotel, one of Canada's great railway hotels, is accepted. Tilly loves her new life in the Rocky Mountain town and the people she meets there.
Local trail guide Ryan Blake, taken with Tilly's sparkling blue eyes and mischievous sense of humor, thinks she is just the girl for him. Ryan's work with a guiding and outfitting company keeps him busy but he makes time for Tilly at every opportunity and he's already decided to make her his bride. On the night he plans to propose to Tilly another bride-to-be, whose wedding is being held at the Hotel, disappears. Tilly has an idea where she might have gone and together with Ryan sets out to search for her.
Will they find the missing bride and will Tilly accept Ryan's proposal?
---
Newly-wed Lady Juliana Beamish has much to look forward to but her future turns bleak when the ship she is voyaging on is attacked by pirates.

Captain Drake O'Hara serves no master and only one mistress – the sea. On course for Jamaica he is reluctant to waste time investigating wreckage strewn across the ocean's surface but when the debris offers up a beautiful survivor, he has no option but to take her aboard.

Drake undermines her every notion of what desire is but, uncertain if she is still a wife or might already be a widow, Juliana is unwilling to dishonor her marriage vows. Returning to England is the only recourse she has to determine her status. Can she continue to resist Drake or will she surrender to the unrelenting passions he has stirred in her?
Review: Rescued by handsome Captain Drake O'Hara, Lady Juliana Beamish falls under his spell, but she is unwilling to break her wedding vows. With a long journey ahead, will she continue to resist the passion he stirs in her?
This novel by Victoria Chatham is the right blend of mood and romance with a modern-thinking heroine who wrestles with the timeless problem of marriage and motherhood and her increasing desire for adventure. A most rewarding read! Sherilee Reilly

---
A London season is the last thing bright, beautiful Emmaline Devereux wants. Her grandfather knows he is dying and insists that she find herself a husband and secure her future. The only husband Emmaline would consider is her friend's dark and imposing brother. But Emmaline has a past that, if revealed, will undoubtedly bring disgrace to her and those with whom she associates. Dare she risk pursuing her heart's desire?

Lucius, Earl of Avondale, with a secret of his own, has sworn to not marry until he is forty but fate brings Emmaline to his door. Intrigued by her, Lucius
swears to unravel the mystery she presents. With a war raging between his head and the heart he is in danger of losing to her, he enters into a marriage of convenience with her.

But then Emmaline's past catches up with her and she is abducted. Will Lucius succeed in finding her and will the truth tear them apart or strengthen their love?
Review: HIS DARK ENCHANTRESS by Victoria Chatham was an excellent story that detailed a charming tale between Lucius Clifton and Emmaline Miles. I enjoyed the story with it's bits and pieces of history thrown into the mix. Emmaline's grandfather sends her to London for the "season" in hopes of her finding a husband, and hopes this happens before he dies. Emmaline seeks out her school girl friend, Julianna Clifton, and meets her brother Lucius. From there, the story continues. I don't want to spoil it.

What initially drew me to this story was the name Lucius, which isn't very common, especially today, but was my late grandfather's name. I'm glad I read the story. I will enjoy more books from Victoria Chatham. Very well written and interesting. Redrabbitt TOP 500 REVIEWER
---
Trisha Watts has a past she'd rather forget. She lost a career and nearly her life in an accident that sapped her confidence and haunts her dreams. The world famous Calgary Stampede presents a welcome diversion, but her past catches up with her in a way she could never have imagined.

One more big rodeo win will fulfill all champion steer wrestler Cameron Carter's ambitions but when he meets green-eyed, long-legged Trisha his ambitions turn to wrestling of another kind. Is this cowboy too hot for her to handle?

From the pristine wilderness of the Rocky Mountains to the thundering applause of the Stampede Grounds, Trisha fights her growing attraction to Cameron – a man who sweeps her off her feet one minute then ignores her. Not trusting her heart, Trisha can barely wait for the Stampede to finish so she can go home, never expecting that Cameron will cross an ocean to track her down.

Will she believe this determined cowboy's explanation? Or will she close the door on what could be the love of her life?
Review: "This well written contemporary Western romance is a fun read. Loving That Cowboy is the story of Trisha Watts, an English photographer attending the Calgary Stampede to judge a sexy cowboy photo contest, and champion steer wrestler Cameron Carter, who wants one final big win before he retires from the rodeo circuit. A little suspense and a lot of spice will keep you turning the pages." A.M. Westerling
---
Save
Save
Save