Ann Birch is a longtime historical researcher and an award-winning Head of English in several Toronto high schools. She has a post-graduate degree in CanLit and is currently a fiction writer, editor, lecturer, and workshop facilitator. This is her third novel.
To purchase this book click the book cover and choose your favorite print or digital bookstore from the links provided.
---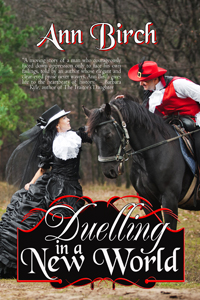 Duelling in a New World focuses on the amazing career of a flawed but courageous man, John White. He duelled with the farmer politicians in Upper Canada's first parliament and succeeded in drafting Canada's first anti-slavery bill in 1793 (long before America or England), all the while engaged in his own personal battles with a failed marriage and a disastrous liaison. John White is a barrister trapped in a disastrous marriage. In 1792, he breaks loose and strikes out for a new life over the sea, leaving Marianne and his children in England. As Upper Canada's first Attorney-General, he confronts the conflicts of the early parliament. He pushes through a bill abolishing the import of slaves—long before Britain or America—and he fights to give Aboriginals justice in white man's courts. He also establishes the Law Society of Upper Canada, still in existence today.
In this new world, John finds pleasure in the friendship of Eliza Russell, sister of Upper Canada's Receiver-General. They support each other in times of tragedy and despair.
But John makes a grave mistake when he has an affair with Betsy Small, a woman of dubious reputation. Realizing his stupidity, John breaks off the affair and brings Marianne and his family over from England. But Betsy is a vindictive woman who insults his wife, and Betsy's husband challenges John to a duel. At dawn on January 4, 1800, John takes his pistol and sets out to meet his opponent.